---
> Newsletter of the European Region of Sigma Theta Tau | nr 1 Summer 2013 (PDF)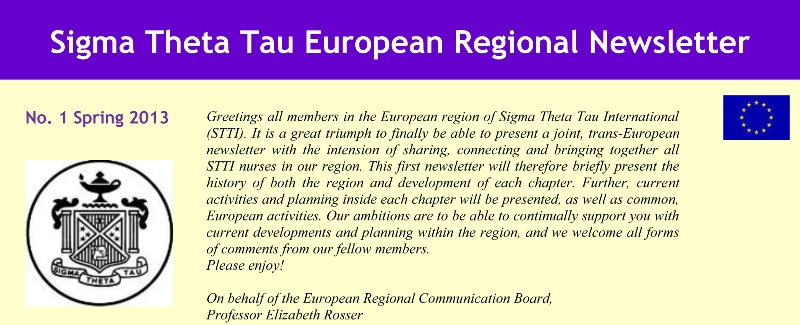 ---
> SIGMA THETA TAU INTERNACIONAL HONOR SOCIETY
2nd Conference for the European Region
Leadership, Learning and Researcg in Nursing and Midwifery
16-18 June 2014 | Gothenburg, Sweden | www.sttiec2014.net


---
THE CONFERENCE AIMS TO:
• Gather nurses and midwifes from different clinical and academic settings in Europe and around the world to stimulate networking and cooperation between STTI members and others.
• Enable participants to understand the role of Learning, Leadership and Research in Nursing and Midwifery and the role of STTI in developing Nursing and Midwifery.
• Promote and develop global excellence in Nursing and Midwifery knowledge.
---
For further information, you may contact Professor Margret Lepp (RN, PhD, President of the Tau Omega Chapter – STTI, Sweden) at margret.lepp@gu.se.