ESEnfC raises the banner of reconciliation of workers' professional, family, and personal life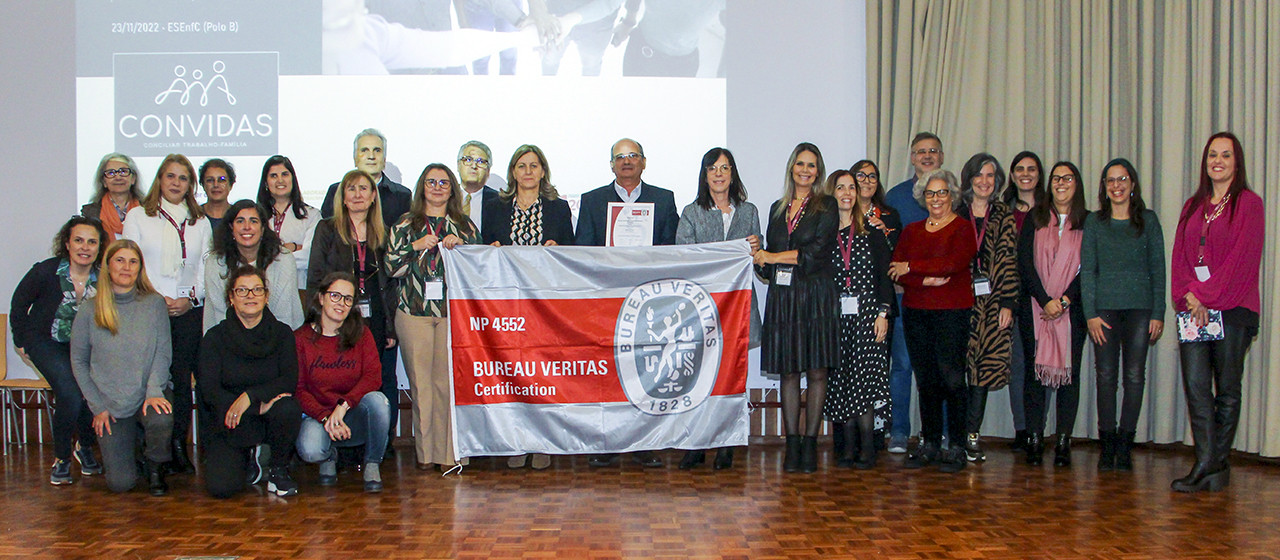 The activity of the CONVIDAS project, through which the Nursing School of Coimbra (ESEnfC) obtained, in 2022, the certification of its Reconciliation Management System (CMS), will "continue" and "be integrated into the internal quality assurance system" of the School.

The ESEnfC President, António Fernando Amaral, expressed this belief during the ceremony of CMS certification of standard NP 4552-2016, which validates the practices adopted by the School regarding the reconciliation of workers' professional, family, and personal life, considered a priority under public policies for gender equality.

"When discussing social responsibility, we always think about the environment or economic efficiency, and we often forget about people. The reconciliation system aims to center management thinking on people as well," said the President of the ESEnfC, during the ceremony held in November 23.

The representative of Bureau Veritas (certifying entity), Carla Lima, and the members of the School's multidisciplinary reconciliation team, Cristina Veríssimo, Dina Marques, João Nuno Oliveira, Conceição Alegre de Sá, and Manuela Frederico Ferreira were also present in the public session included in the program of the 1st ESEnfC CONVIDAS Project Meeting: Reconciliation, equality and organizational well-being: sharing experiences.

Anabela Vaz Ribeiro (Pedra Base Consultancy and Training) gave the lecture "The reconciliation, equality, and organizational well-being trilogy from the perspective of the 2030 Agenda and the Sustainable Development Goals".

There was also the panel "SGC Projects and Plans for Equality: Sharing Experiences", which talked about the initiatives in this area implemented by ESEnfC, Polytechnic Institute of Portalegre, and Polytechnic Institute of Viana do Castelo.

The ESEnfC's SGC was certified within the scope of the CONVIDAS project, approved by the Administrative Modernization Support System (SAMA 2020) and funded by Compete 2020 and Portugal 2020 (partnership agreement between the Portuguese State and the European Commission).

The CONVIDAS project develops its activities in the areas of "Good Labor Practices", "Professional Support and Personal Development", and "Services and Benefits".

The project has the participation of a large team (members of the educational community), which has been collaborating in the implementation of measures for promoting good practices in the reconciliation between professional, family, and personal life.
[2022-12-07]
---