EcoCampus: ESEnfC received the distinction together with the Coimbra Health School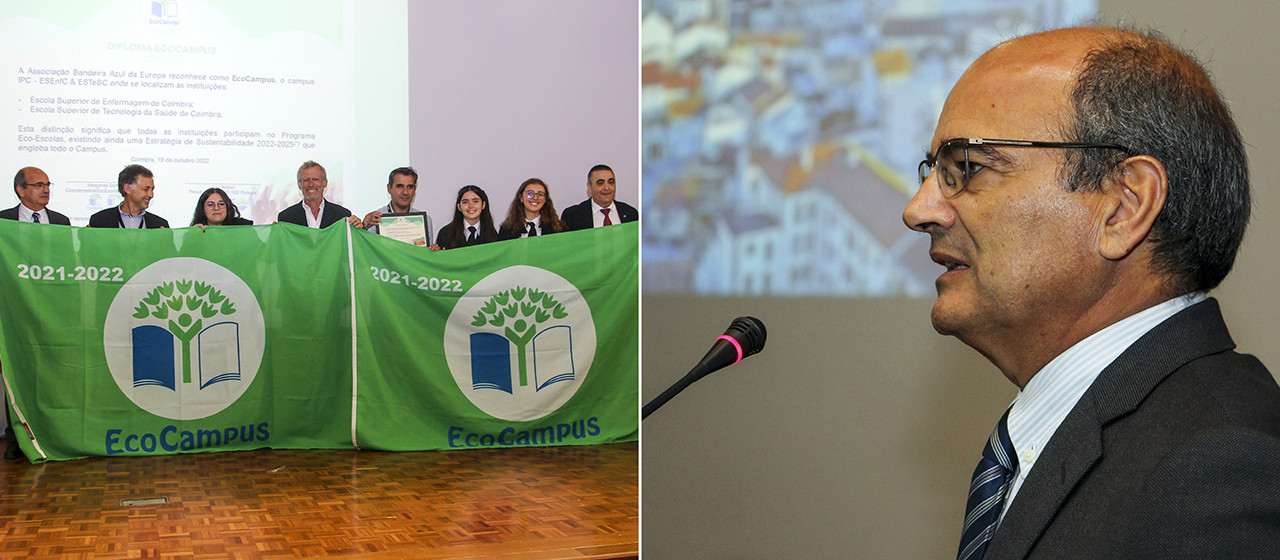 Campus B of the Nursing School of Coimbra (ESEnfC), located in the parish of São Martinho do Bispo and shared with the Coimbra Health School of the Polytechnic Institute of Coimbra (ESTeSC/IPC), was recognized by the European Blue Flag Association (ABAE) as an EcoCampus.
The award and the flag were delivered to the two institutions by the hands of the president of ABAE, José Archer, during a ceremony held in October 19, in the Auditorium shared by both institutions in São Martinho do Bispo.
At the meeting, which included messages from the president of ESEnfC, Fernando Amaral (on the right), and the president of ESTeSC, Graciano Paulo, nine more EcoCampus green flags were delivered to other campuses of Portuguese higher education institutions. Fifty-six higher education institutions were also recognized for their successful work in the Eco-Schools program in 2021-2022, and good environmental practices implemented in some of these institutions were publicized.
The EcoCampus distinction results from an application to this new ABAE program, considered "a supplementary process to Eco-Schools, which promotes continuous improvement of environmental management" at the campuses of higher education institutions (HEIs), as well as "the adoption of sustainable behaviors in academic and local communities".
In the application to an EcoCampus, the HEIs submit information on environmental management, photographs, attachments, and description of the campus, as well as data on the sustainability strategy for a triennium based on the Sustainable Development Goals.
Since the 2019-2020 academic year, the School has also been distinguished by the ABAE with the Green Flag Award in recognition of its activities for environmental education and making the daily life of the entire educational community more sustainable.
The ESEnfC Eco-Schools program is coordinated by Professor Carlos Marques Silva.
[2022-11-14]
---