ESEnfC faculty at the First International Nursing Congress in Guinea-Bissau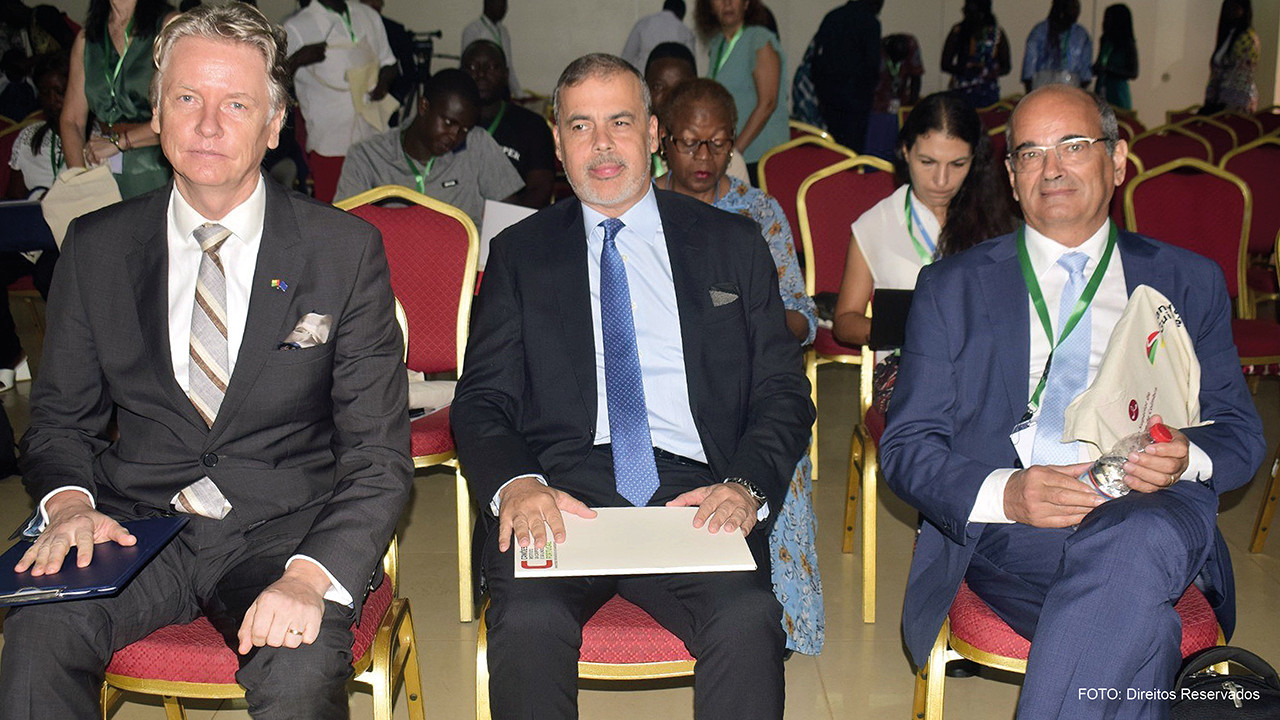 On September 6 and 7, the President of the Nursing School of Coimbra (ESEnfC), Fernando Amaral, and the School's faculty members, Alfredo Lourenço, Jorge Apóstolo, Manuela Frederico, and Verónica Coutinho, participated in the First International Nursing Congress in Guinea-Bissau. Fernando Amaral delivered the Congress's opening lecture on "Nursing in the 21st Century."
The Congress was co-hosted by the Nursing Regulator of Guinea-Bissau and the ESEnfC as part of the "Ianda Guiné Saúde - Strengthening the Bissau-Guinean Healthcare System" project. The project is led by the Camões - Institute for Cooperation and Language, I. P., and supported by the European Union.
ESEnfC Professors Manuela Frederico, Verónica Coutinho, Alfredo Lourenço, and Jorge Apóstolo also participated in the event, organized under the theme "Enhancing Human Capital Training in Nursing." Frederico discussed in a roundtable the importance of nursing in health care. Coutinho participated in a separate roundtable moderated by Lourenço and focused on the transformation of nursing education in Guinea-Bissau. Lastly, Apóstolo gave a lecture on the global challenges confronting child health.
As part of the "Ianda Guiné Saúde" project, the ESEnfC provided training to 17 Bissau-Guinean nurses, who attended a 180-hour training course on the management of care units for hospital nursing managers. The nurses completed the training in March of this year.
Supported by a €2 million grant from the European Union and co-funded with an additional €140,000 from the Camões - Institute and the Calouste Gulbenkian Foundation, the "Ianda Guiné Saúde" project aims to strengthen human resources for health in this Portuguese-speaking African country over a three-year period (2020-2023).
This project also counts on the collaboration of the Portuguese Institute of Hygiene and Tropical Medicine, the Portuguese Directorate-General for Health, the School of Medicine of the University of Minho, the Hospitals of Braga, Guimarães, and Viana do Castelo, and the Portuguese Medical Association.
The first photo shows Artis Bertulis, the European Union Ambassador in Guinea-Bissau, and José Rui Velez Caroço, the Ambassador of Portugal in Guinea-Bissau, with Fernando Amaral, the President of the ESEnfC. Domingos Malú, the Bissau-Guinean Minister of Public Health, and Alberto Lopes, President of the Nursing Regulator of Guinea-Bissau, were also present at the opening of the Congress and can be seen in the second photo standing on either side of Artis Bertulis.
[2023-09-08]
---